Travel Inspired
A worldly affair. We use only the best ingredients sourced from around the world.
Handmade
We make our brigadeiros the old school way; meticulously handmade in small batches.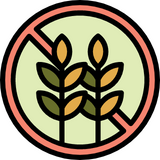 Gluten Free
We never use flour or any gluten products in our brigadeiros.
Nut Free
Don't go nuts worrying about our brigadeiros. We are peanut and tree nut free.
Recommended
You might want to take a closer look.